We are back from Peru. This was the trip of a lifetime: enjoying wonderful regional food, forever hiking uphill at 11,000 feet, meeting the beautiful people of Cusco and of course visiting our son. And there was the added thrill of a "transportation strike" with burning tires, tree stumps and rocks blocking every road in the city. Come on in to Good Natured, I have lots to tell you.
A New Thing for the 2014
We've joined INFRA, a support system for small health food stores like ours. Check out our new Independent Choice store sales flyer from the Independent Natural Food Retailers Association. We are happy to be able to pass these price savings on to our loyal customers in 2014.
New Market Items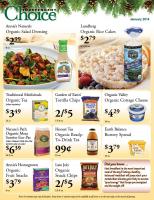 Peace Cereals
So Delicious Cookie Dough Ice Cream
Ezekiel Sprouted Bread
So Delicious Cashew Milk
Hail Merry Chocolate Tarts
Garden Of Life Raw Protein
Sophies Vegan Coconut Shrimp
Orca Bay Salmon
Black Dog Coffee
Tree Of Life Products
GUS Grown Up Sodas
Clif Core Bars
Barbara's Cheese Puffs
Aloha Bay Bath Salts
Aloha Bay Sole Jar
Baby Beanie and Sock Sets
In Our Cafe
Avocado Ensalada

Organic mixed greens served with cumin spiced black beans, avocado, corn, cucumbers, tomatoes, and onions. Served with house made Cilantro Lime dressing and your choice of fresh baked cornbread or zesty tortilla chips.

Organic Produce

Olivia's Lettuce Mix
Granny Smith Apples
Pink Lady Apples
Broccoli Heads
Red and Yellow Onions
Asian Pears
Russet Potatoes
Strawberries
Garnet Yams
Oriental Sweet Potatoes
Organic Tomatoes
Blackberries
Don't let any of this good food go to waste.