Spring has arrived at our Good Natured Market. Seedsaver Seeds are in stock this week. Our Sjaak's vegan Easter bunnies need a home. Try a Garrett County ham nugget for the Sunday dinner.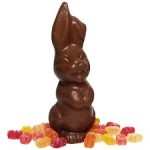 Come order from our new Cafe Menus. We are now a peanut-safe kitchen. We are using "Wow Butter" in our Noodle Bowl and subbing out Sunbutter for our kid's PBJ, now "The Sunbutter Sammie". Two new items to sample are our Vegetable Korma and our Seasonal Harvest Offerings. Patio seating will open in a few weeks. Celebrate spring with us.

We have VEGAN jelly beans.
We've joined INFRA, a support system for small health food stores like ours. Check out our new Independent Choice store sales flyer from the Independent Natural Food Retailers Association. We are happy to be able electronic cigarette benefits to pass these price savings on to our loyal customers in 2014.
New Market Items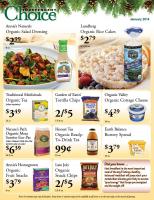 Peace Cereals
So Delicious Cookie Dough Ice Cream
Ezekiel Sprouted Bread
So Delicious Cashew Milk
Hail Merry Chocolate Tarts
Garden Of Life Raw Protein
Sophies Vegan Coconut Shrimp
Orca Bay Salmon
Black Dog Coffee
Tree Of Life Products
GUS Grown Up Sodas
Clif Core Bars
Barbara's Cheese Puffs
Aloha Bay Bath Salts
Aloha Bay Sole Jar
Baby Beanie and Sock Sets
In Our Cafe Today
Black Bean Quesadilla &
"Thinking of Summer" Strawberry Wrap
Organic Produce

Olivia's Lettuce Mix
Black Seeded Grapes
Pink Lady Apples
Broccoli Heads
Red and Yellow Onions
Bananas
Russet Potatoes
Baby Watermelons
Hannah Sweets
Garnet Yams
Oriental Sweet Potatoes
Organic Tomatoes
Don't let any of this good food go to waste.